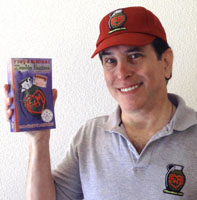 Read the Author Interview on Gingernuts of Horror

THE AUTHOR
A true renaissance man, Joseph Tatner holds a BA in Communications and an MA in National Security Studies. He has written numerous published Web and print articles, books, technical documents and promotional materials, and holds credentials as a Master Federal Career Coach, Master Federal Resume Writer and Master Military Transition Resume Writer. He wrote the book Autism: A New Hope with Dr. Cheri L. Florence (available on Amazon.com) and edited the definitive compendium on America, the Opus Americana (also on Amazon.com and at OpusAmericana.com). Joseph has written countless documents for companies such as Shell Oil, Southern California Edison, Cedars-Sinai Medical Center and the Las Vegas Valley Water District.

After writing so many technical manuals over the years, Joseph nearly turned into a zombie himself, so he has a unique insight into the mindless void of a soulless drone. Yet like his father before him, Jack Tatner (who was a famous musician in the 1940s), Joe has kept his offbeat sense of humor. He has a unique talent for taking an otherwise normal situation and turning it on its head, then twisting it again with delightful, thought-provoking results. This is not just a brainless zombie novel. Floyd and Mikki: Zombie Hunters is an unpredictable adventure that keeps you guessing and waiting on the edge of your seat to see what comes next. Joe is a modern day Gilbert and Sullivan, examining humanity, society and personal relationships in a topsy-turvy apocalyptic world.
THE MAN
Joseph Tatner began his life as a genuine Forrest Gump (with a substantially higher IQ). His legs were deformed, requiring leg braces and orthopedic shoes for the first two years of his life. The doctor suggested he get into dancing to strengthen his legs, but he suffered from severe childhood asthma. At age 8, he finally began tap, jazz and ballet dancing and at age 9 made his television debut tap dancing in an early episode of The Partridge Family. This led to a long career in television, stage, film and radio as a true triple threat: singer/dancer/actor. Joe lost his voice temporarily to a freakish growth on one vocal cord that required surgery. It was nearly ten years before he could sing again, but he studied opera in Milan, Italy and can be seen occasionally singing and dancing on stage or in a walk-on role in the movies.

Joseph heard another calling early in his life and entered the seminary to become a priest, even studying for a year in Rome before returning to the United States, where a car accident injured his back. After a year of therapy and mounting bills, he ran an entertainment business producing shows and eventually performing again. Then he joined the United States Air Force and was commissioned as a Second Lieutenant. The day he arrived at his base, however, all the KC-135 tanker aircraft he was supposed to maintain were sent to the reserve unit on base, meaning the planes stayed there but he officially had no position. A year later, he resigned honorably from the Air Force after his two requests to volunteer for service in Iraq were denied.

While in the Air Force, Joseph bought his first AT&T computer. Playing the latest games required the ability to install new memory, hard drives, video cards, etc. Before long, he became a recognized Geek and was soon writing technical documents or managing complex IT projects throughout the US and overseas. He currently works from home in Coeur d'Alene, Idaho as a freelance writer, taking care of his 11-year-old daughter.

Despite numerous challenges and setbacks, Joseph is living proof that you can't keep a good man down. This spirit of never giving up and determination to conquer all odds is pervasive throughout Floyd and Mikki. May they live long and prosper!