Do you have a book club? Are you a blogger?
For a limited time you can get a prerelease copy of Floyd & Mikki: Zombie Hunters as a PDF file to print or read on your computer. If you share the book with your book club then email us a short review with your group comments, you will receive an F+M Army sticker and embroidered grenade logo patch (while supplies last) for each person in your club (up to seven each). If you read the book and write a positive review, email us links to the blogs with your positive comments and you will receive a sticker and patch as well. Note that you must send us a valid mailing address and there are no hidden costs. We will mail the stickers and patches at our expense. It's out way of saying thank you for telling people how you loved the book! Select members of the Floyd & Mikki Army will get a free advance copy of Book 2, Floyd & Mikki: Zombie Slayers when a prerelease copy is ready. You must agree not to reproduce the book or any materials in any way other than expressly permitted by the author.

Anyone who gets a tattoo on any visible part of their body of the F+M grenade logo will get a free patch as well (while supplies last). Just email a photo of you and your tattoo.

Send an email to Email: floyd@fmzombies.com with the subject "Floyd & Mikki Army" and tell us how many people are in your group or if you are a blogger.

The patch is a quality embroidered patch with a heat seal backing that you can iron on to clothing.

NOTE: Because supplies are limited, we recommend emailing first to make sure stickers and patches are still available, especially if you plan on getting a tattoo!




Download this FREE Floyd & Mikki iPhone 5 wallpaper!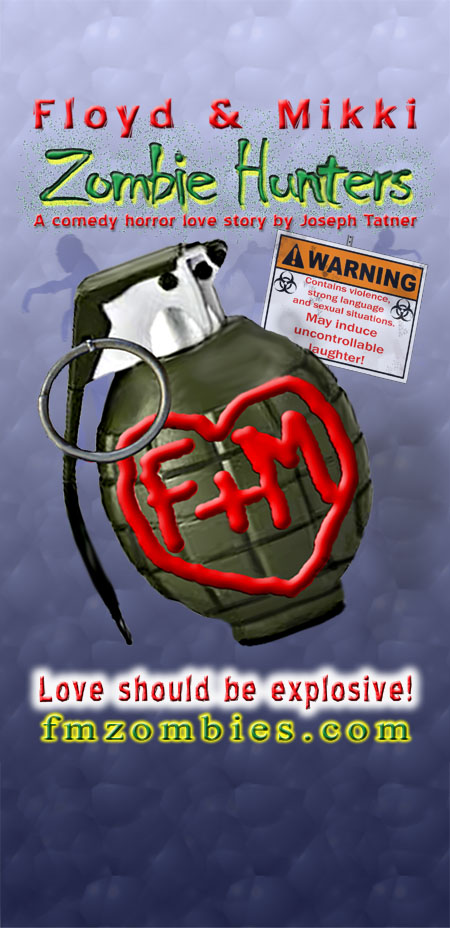 Play this FREE Zombie Hunter game! Fun!!!!
(wait for the commercial to end)